Unraveling the Wonders of TPO Roofing: A Holistic Approach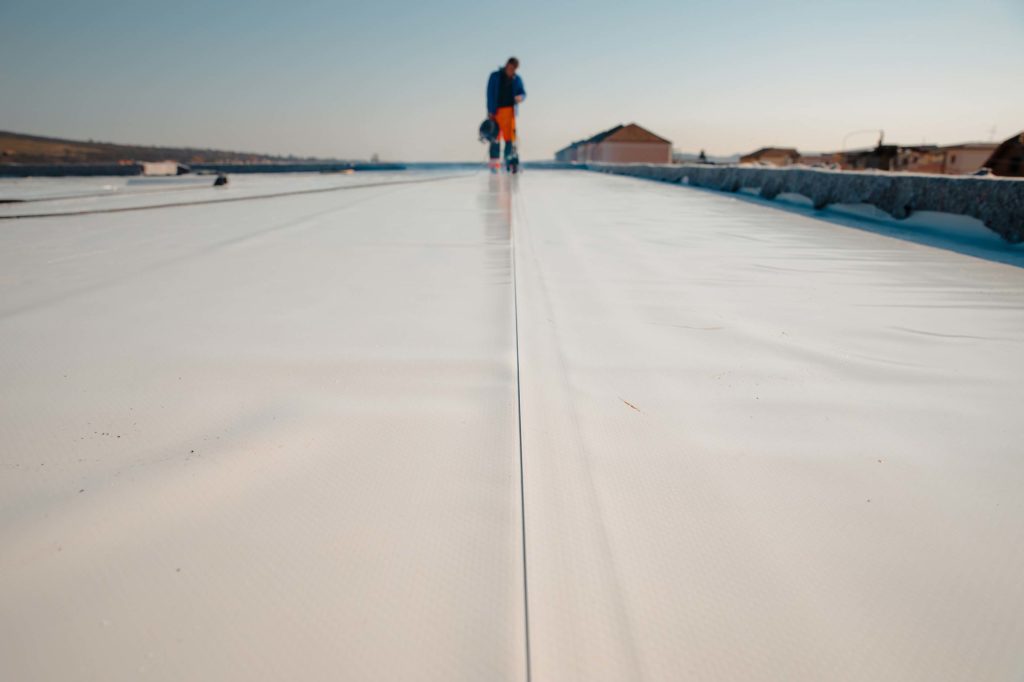 The bustling city of OKC is no stranger to harsh weather conditions and building owners are always looking for roofing solutions that can withstand Mother Nature's wrath.
Enter commercial TPO roofing – the shining star of the modern roofing world. With a plethora of benefits, it's no wonder TPO has become the go-to option for many commercial buildings in the area.
But don't just take our word for it; join us as we explore this fascinating world of state-of-the-art roofing technology and discover why it's the best choice for your property. Get ready to take the plunge!
Understanding TPO Roofing
TPO stands for thermoplastic polyolefin, a type of roofing material that has gained popularity in the recent past for its exceptional durability and energy-saving properties. Here are some key features of TPO roofing:
TPO roofing is made from a blend of ethylene-propylene rubber and polypropylene, making it highly resistant to extreme weather conditions, including high winds, hail and heavy rain.
This roofing has an industry-standard radiative performance, reflecting sunlight and reducing the heat absorbed by the building, resulting in lower cooling costs.
It is easy to install and the contractors execute the task on time and cost-effectively.
Commercial TPO Roofing Vs. Other Roofing: Delineating the Difference
Commercial TPO roofing stands out from other roofing options due to the unique features that make it ideal for commercial buildings. Here are some crucial points that differentiate TPO roofing from other roofing options:
Harsh Weather Resistant Properties
TPO roofing is highly resistant to harsh weather conditions, making it an ideal option for commercial buildings that experience extreme weather.
This roofing has exceptional durability and a long lifespan compared to other roofing materials.
Industry Standard Radiative Performance
TPO reflects sunlight and reduces the heat the building absorbs, making it an energy-efficient option.
TPO roofing comes with a manufacturing warranty covering defects, damages and other issues that may arise during installation.
No Existence of Halogenated Compounds or Chlorines
TPO contains no halogenated compounds or chlorines, making it an eco-friendly and sustainable option.
It is affordable compared to other roofing materials.
TPO roofing is puncture-resistant, making it an ideal choice for commercial buildings that experience heavy foot traffic or require rooftop equipment installations.
These roofing options come with quality assurance standards that ensure the product meets the highest industry standards.
TPO roofing is easy to repair and maintain, ensuring a longer lifespan and lower repair costs.
Describing Different Types of TPO Roofing
Different commercial TPO roofing systems are available, each with their installation methods and unique features. Here are some of the most common types of TPO choices:
Mechanically Attached TPO Roofing
This type of TPO undergoes installation using screws and plates, providing a secure and stable roofing system.
Induction Welded TPO Roofing
This type of commercial TPO roofing installation uses hot air welding machines, which create a sturdy and durable bond between the roofing membrane and the underlying surface.
Fully Adhered TPO Roofing
An adhesive material is required to install TPO roofs, creating a seamless and watertight system.
Know More About Specifications
When choosing TPO roofing for your commercial building, it's essential to consider the specifications of the roofing material. Here are some of the most important specifications to keep in mind:
Market-Based TPO Roofing Thickness
TPO roofing is available in different thicknesses, ranging from 45 to 80 mils. The thickness you choose will depend on the specific needs of your commercial building.
TPO roofing is available in various colors, including white, gray and tan. You can also choose the width of the roofing material, ranging from 6 feet to 12 feet.
All American Roofing: We Assure Quality Craftsmanship
If you're looking for a reliable and experienced TPO roofing contractor in OKC, All American Roofing is here to help. "If you need a roof that won't let you down, here we are the talk of the town."Our team of roofing experts has years of experience installing TPO systems for commercial buildings across the region. We offer a range of roofing services, including installation, repair and maintenance, to ensure your TPO roofing system lasts for years to come.
Our commitment to quality and customer satisfaction sets us apart from other roofing contractors. We use only the highest quality materials and follow industry-standard installation methods to ensure your TPO roofing is in perfect condition. Our dedicated team provides exceptional service and support throughout roofing, from the initial consultation to the final inspection.